Perfect fit – how to choose the right size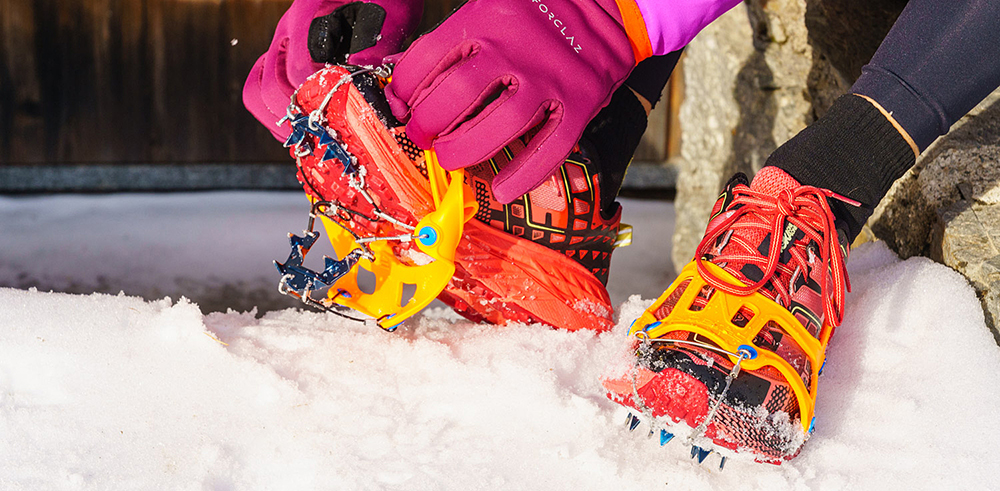 How to fit
Before each use it is necessary to visually check that the Micro Crampons are not damaged and therefore that their functionality is guaranteed (all parts, metallic and not, must be intact and free from cracks); if damage to the metal elements or to the elastic is visible, the product must no longer be used.
Before use, make sure that you have correctly fitted the Micro Crampons.
For a correct, satisfactory and long-lasting use of the product, it is important to make sure that the Micro Crampons are of a size suitable for the shoe on which it will be used and that the positioning of the Micro Crampons itself on the shoe takes place correctly:
The elastic must never come into contact with the sole of the shoe and all the components of the Micro Crampons must be subjected to a light and uniform tension.

1) identify the front and the back of the Micro Crampons; the latter is identified by the word "BACK". Insert the elastic through the front part of the shoe making sure that the anti-slip (crampons or nails) is facing outwards and not towards the sole of the shoe. There is no difference between right and left Micro Crampons.
2) after inserting the shoe into the elastic, make sure that no detail is positioned abnormally or is stuck in the protuberances or hollows of the tread sole. If the Micro Crampon is correctly positioned, the elastic will stretch without any particular effort until it is correctly positioned on the heel of the shoe.
3) make sure that the Micro Crampons uniformly cover the surface of the sole and that they adhere to the shoe optimally.
4) check that it is correctly assembled, making sure that all the components are lightly tensioned, that nothing is caught in an anomalous way in the protuberances or hollows of the tread sole and that the elastic is NEVER positioned between the sole and the ground.
HOW TO FIT – HE HAS TO KNOW
Marco De Gasperi – Mountain Running Legend – was instrumentally involved in the development of TRAIL and uses the NORTEC MICRO CRAMPONS for his training and in races. In this two video he shows how to put on TRAIL and NORDIC.
Guide to choosing the size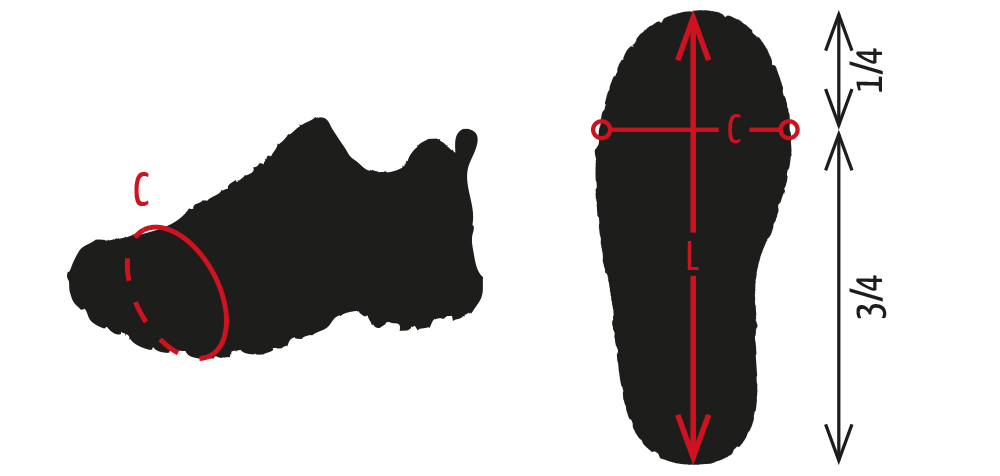 LEGEND
L = shoe lenght
C = shoe circumference at ¼  of the shoe lenght from the tip
TRAIL – MINIMAL Micro Crampons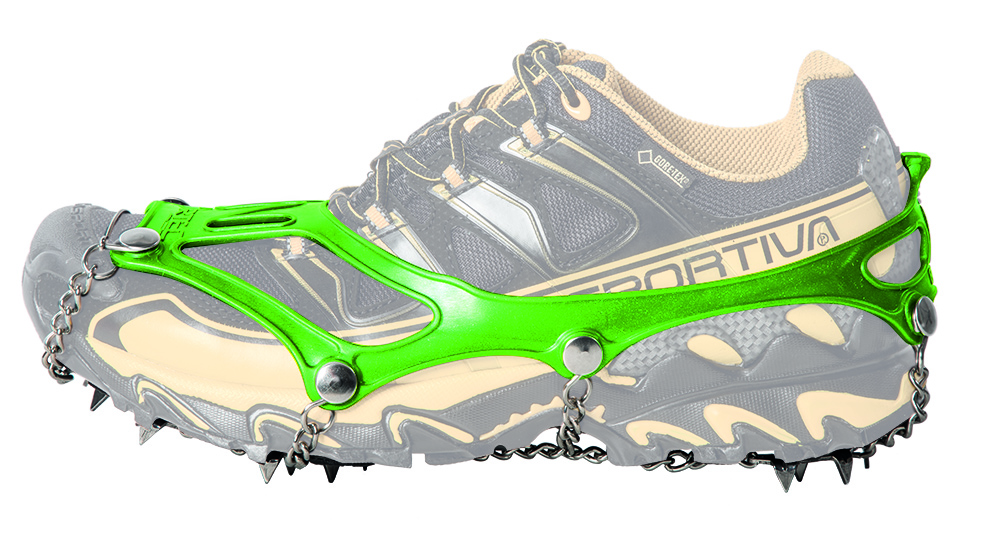 NORDIC – Ultralight Quickfit Crampons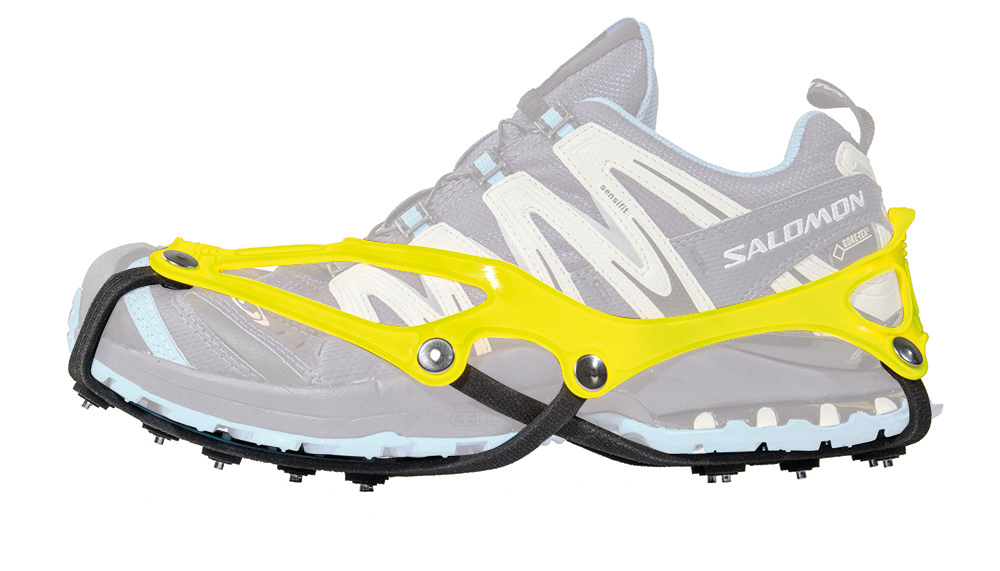 CORSA – Runners Micro Crampons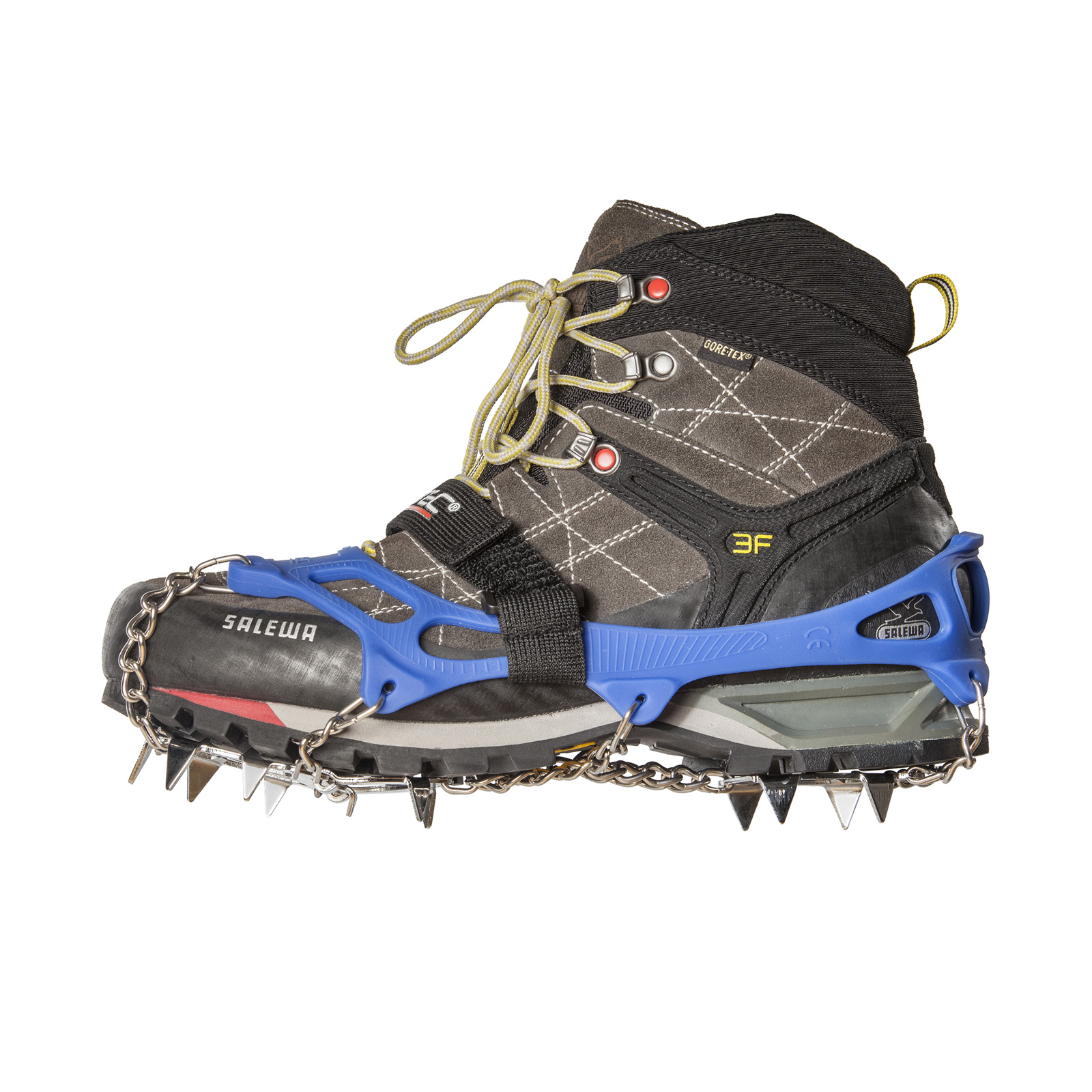 ALP & ALP FOREST – Quickfit Micro Crampons